Travel the World in a Janet Elaine Smith Book
She's been through the trenches, but she's not alone. After trying different publishers, some good, some not so good, some good to start with and then going awry, she finally caved in to the pleas of her long-time friend, Kristie Leigh Maguire, who had been after her to join forces with Star* Publish since its inception in 2004.
Now, she is swinging on a Star--a Star* book, that is. All 19 of her novels are available as Star* books. She even gave in to her readers demands and wrote the memoir of her time in Venezuela, where she and her late husband Ivan served as missionaries for nine years. This site is designed to make it easy for all of her devoted, loyal fans to see at a glance what each book is all about.
So relax, get ready for a fun trip, and wish upon a star...anything can happen!
(For more about Janet see her main website
here
)

THIS IS YOUR JANET ELAINE SMITH BOOKSTORE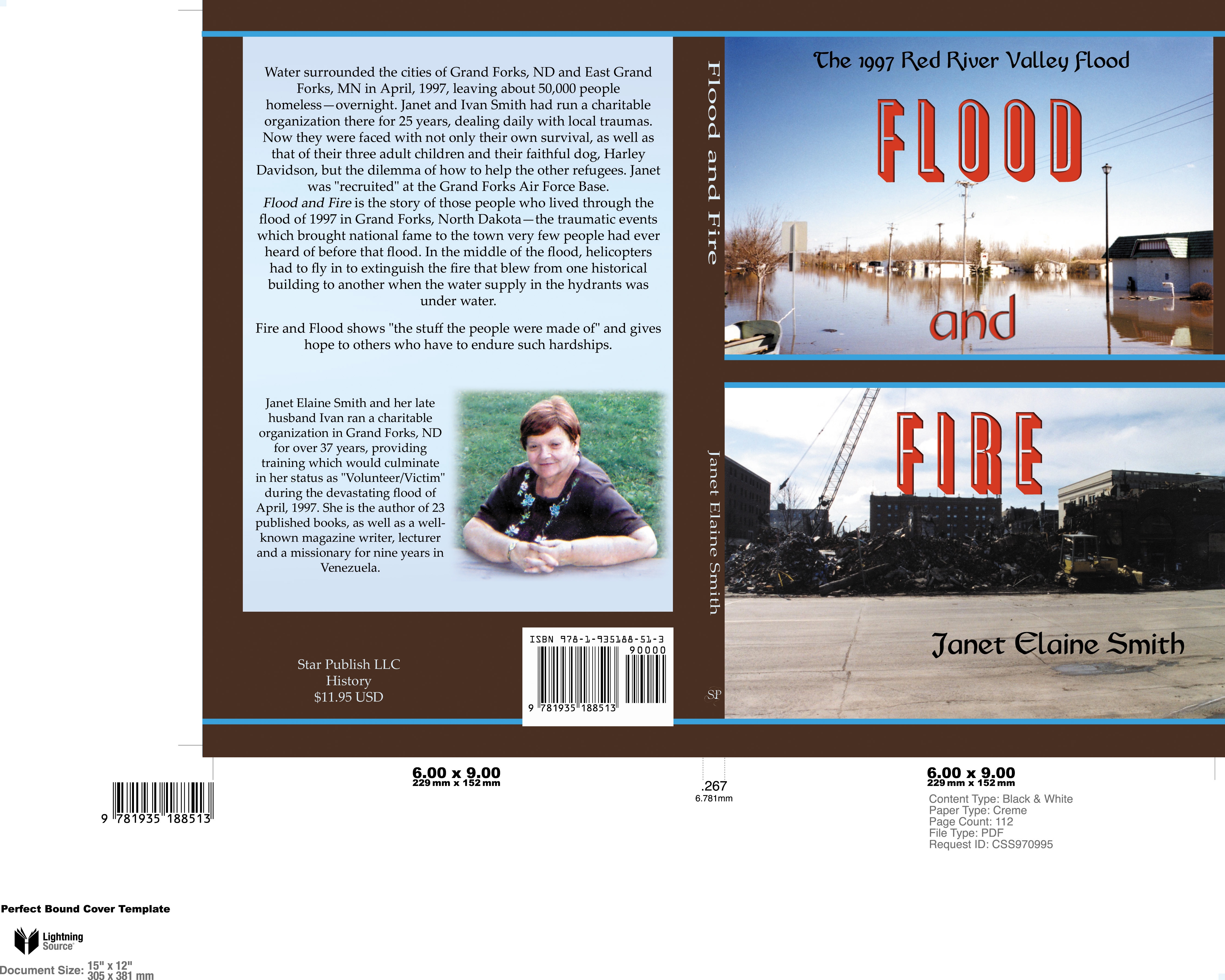 RE-RELEASED AND UPDATED
Janet Elaine Smith and her late husband, Ivan, were in the thick of things in the evacuation and recovery efforts of the flood of 1997 in Grand Forks ND and East Grand Forks MN. Janet was "recruited" by the Colonel in charge of the Grand Forks Air Force Base, and the tales of the survivors were recorded by Janet and became a book. It is now being released by Star Publish LLC and it includes pictures that were taken by Ivan and her son.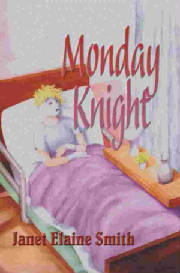 Click on cover to order Monday Knight NOW
MEET THE WOMEN OF THE WEEK
Monday Knight was the first woman. She was named for the day of the week on which she was born, and she had it drilled into her head that the only thing she had going for her was her incredible beauty. It was not surprising when she became the most famous model in the world. And then it all came crashing down when she was hit by a drunk driver. No, it is not a sad read. Through her trials, she discovers the value of what is really important in life.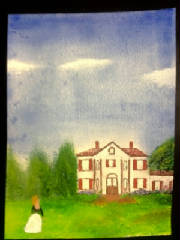 Monday Knight has been on a quest to find other women who are also named for the day of the week on which they were born. She has finally tracked down Tuesday Nolan. Her story will be out sometime this summer. She, like Monday, has been taught from the cradle that her life is one filled with "grace," as per her line from the old poem, "Tuesday's child is full of grace." Or is it?
Tuesday lives on Folly Beach, just outside Charleston SC, where live is indeed a folly and nothing is quite what it appears to be. You will be delighted with her plan to set Charleston's "elite" eat a bit of crow as she rights more than a few wrongs.


THE WAIT IS OVER!
Port Call to the Future
, the long awaited sequel to time travel
House Call to the Past
, is finally available. You can order it
here
.
You can read a 2-chapter excerpt
here
. Have fun! I did. My pirate, Black Sam Bellamy, refused to be reined in and did whatever he wanted to do. No surprise!
Click on cover to order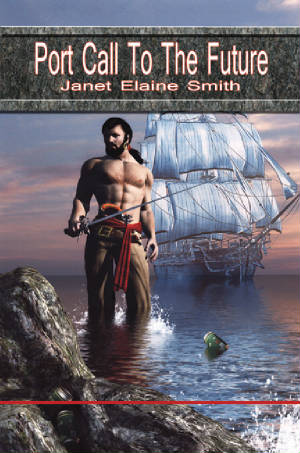 Read an excerpt of Port Call to the Future here
It's still the same inside, but cover artist Richard Stroud has created a new cover for House Call to the Past. Why? You liked the old one? It was after hearing from people who are pirate devotees that said they would buy the book if it looked more like a "pirate book." That includes the delightful fellows from the Whydah Museum at Provincetown, MA, where the booty from Black Sam Bellamy's ship. I hope you like the cover as much as I do, and that the story inside will have you wondering if it really is possible to travel back in time.
The sequel, Port Call to the Future, is now available. I just love this cover, also done by Richard Stroud. If possible, it is even better than the previous covers he has done for me. It gave me the added inspiration I needed to hurry up and finish the text. I hope you will enjoy this one as much as you did House Call to the Past, which has won several awards. The first one was primarily the story of Maria Hallett, who was accused of witchcraft. This is the pirate, Black Sam Bellamy's tale. You just never know where a good pirate might show up!

COMPANION VOLUMES
(New in 2011)
Click on cover for a photo journey through the boo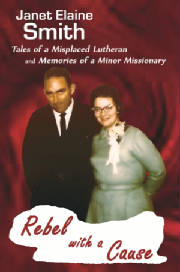 ISBN 1835177143
For many years, readers and friends have asked me to write about my early life experiences, mainly Ivan's and my time in Venezuela and what led me up to that point. After much deliberation, I decided to take the plunge and delve back into my past.
Rebel With a Cause is the result. It shows the trials and temptations that face a simple person from the back woods of northern Minnesota to a world that is far different, yet it ends with triumph as I follow the path God set before me. The cost is sometimes great, but the rewards are so much richer.
I sincerely hope you will order a copy today to take the trip of my life with me, and be sure to click on the cover of the book here so you can "see" (via many of my favorite photos from way back when) where we are going.
Click on cover to read an excerpt
The Green Year information

Just one year. That was all the Foundation Dr. John Wesley Blackstone III (Dr. Juan) asked from a few doctors. He had set up four clinics in Venezuela, but he could no longer run them alone.

Dr. Rebecca Stanford stuffed the letter of invitation into her pocket, until a young nurse trainee who had grown up as a "missionary kid" in Venezuela convinced her to volunteer.

"The year everything in the desert turns green" was a common Venezuelan expression that was eventually shortened to simply "The Green Year" (El Aņo Verde). Rebecca soon learned to live her life by that philosophy.

With Rebecca fighting the arrogance of Dr. Juan and mistreating missionary Kyle Parr, who seemed to show up exactly when he was needed, the year passed too fast. She longed to stay in the land she had grown to love, but was she willing to accept God's answer for her? And would Dr. Juan possibly yield to the God both Rebecca and Kyle loved and served? Would he allow God to answer their prayers for him?

Author info:

Best-selling author Janet Elaine Smith's memoirs, Rebel With a Cause, takes you on a trip to Venezuela, where she and her late husband Ivan served as missionaries for 9 years. Now she revisits the same four areas in Venezuela where they worked, but this time in a fun inspirational medical romance, reminiscent of the popular medical romances of the 1950s.

This is Janet's 21st book. She loves to delve into different countries, different times, and different genres.

Becoming America's Favorite Senior Sleuths
"Everybody's at least a little bit Irish on St. Paddy's Day." - Ret. NYC police officer Patrick O'Malley
Holiday Fare
Halloween: Recipe for Murder
Thanksgiving: Old Habits Die Hard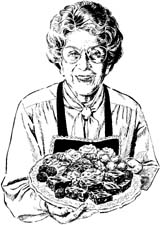 I would like to introduce you to my favorite characters, Patrick O'Malley and Grace Johnson. Patrick is a retired NYC cop, and he's Irish through and through. Grace is just as Irish as Patrick, even if she is a Johnson. "Poor James, may he rest in peace," Grace laments. "He couldn't help it that he was born Swedish."
Please join them on their thrilling capers as they rove the country in their fun attempts at solving the problems of the world--or at least a few people. You will even find a real leprechaun inside the pages of their books.

As Patrick so fondly says, "On St. Paddy's day everybody is at least a little bit Irish."
They even have their own website, and if you meander there for a bit you might even get a clue as to what they will be up to in the future. Just hop on over
here
to learn more about them.
One reader says, "Patrick and Grace get into more trouble than a couple of two-year olds, but they have more fun than a barrel of monkeys getting out of it." To see what kind of trouble lies ahead for them, click

here

.
Introducing Sister Babs to the series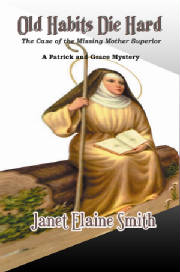 Click on cover to order ISBN 1932993495
Get your dose of "Irish fun" inside the pages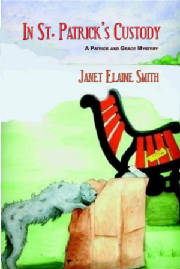 Click on cover to order: ISBN 1932993479
FUN IN YOUR OWN BACK YARD
Click on cover to order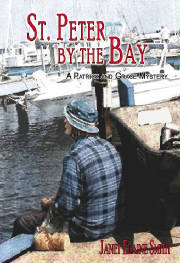 It was the summer of 2011 when Janet Elaine Smith and her son Kevin spent a day at the marina in Menominee, Michigan, only about 50 miles from "home."
It was the day of the annual 100-miler race, and they watched the sailboats pass by. They were beautiful, but the thing that intrigued them the most were the delightful people they saw. It was then that Janet knew that they had to be in a book.
The perfect way to pull it off was to bring her favorite senior sleuths, Patrick and Grace, to bring one of their mysteries to "the Bay." Of course, they would find a heap of trouble to get into.
So, in Janet's back yard, so to speak, the book began to take shape. It was more fun than the tottering twosome have ever had. Please join them at the Bay and share in their adventures.
Click on cover to order ISBN 1935188003
NOW AVAILABLE!
Janet has a brand new comical contemporary romance out. In today's convoluted world of "his," "hers" and "their" kids, she has taken the idea of extended families to the max. Never has it been truer that "Oh, what a tangled web we weave when first we practice to deceive..." You won't want to miss the fun and try to figure out how four ex-wives, seven kids and one man try to stay out of each others' hair and still not let the cat out of the bag.
As Janet's dad used to say, "I ain't had this much fun since the pigs et my little brother."

FRUSTRATED BY LACK OF SALES, AWARDS AND RECOGNITION?
They've been out as an e-book for several years, and acclaimed by some as "The author's Bible for promotion." Now, Star Publish has stepped up to the next level and they are now available in print to make it easier for you to keep them handy while you market yourself to Stardom! Watch for them on Amazon.com and everyplace fine books are sold. Janet Elaine Smith shares her easy-to-follow secrets to what has worked for her. As Kristie Leigh Maguire said about Janet's PromoPaks, "These were so simple I could have thought of them—but I didn't."
| | |
| --- | --- |
| | R.Brian Burkhardt, author of Rest in Peace--Insider's Tips to the Low Cost Less Stress Funeral, had this to say. |
I have been advised by the best promoters in the world. This book gave me fast and fabulous ideas that I could have implemented yesterday. This work increased the hopes for my books. Just buy it. Do it now. Click your Mouse for your purchase.
Rusty Fischer, marketing guru, said, "These are great! I've been doing this full-time for 3 years now and didn't think there was any room to improve but you've shown me the error in my ways." (For more info. on Rusty Fischer, Author of
GRASS ROOTS BOOK PROMOTION
: Almost 300 FREE Ways to Promote Your Self-Published Book!
Available exclusively at
http://www.writingcareer.com/rf001.shtml
)

MAX STRYKER'S BACK IN TOWN!
CAN TROUBLE BE FAR BEHIND?
ALL NEW MYSTERY SERIES FROM JANET ELAINE SMITH
After more than a year of silence, JES is back in business! Yes, with Max Stryker Mysteries making their debut, she will once again tickle your funnybone, make you ponder whodunit, and send you over the wall with a whole new bevy of characters you will swear you know.

Below is a bit about Max Stryker's first mystery: Bank Roll. For more about her and what other mischief she's headed for, click on the cover of the book.
The Day Max Stryker Hit Town--Again!
It started out like any other day for Max (Maxine, but only to her mother) Stryker, a crime reporter for the St. Paul Pioneer Press.
Then the news broke. She was listening to the morning news on TV as she rushed to get to work when they announced that the Knight Ridder chain of newspapers had been sold.
When she arrived at the office, the buzz was that their newspaper was going to go on the auction block, and a lot of the workers would be getting pink slips within days, maybe even hours.

With her notice in front of her, Max called her mother and told her that she was going to be forced to do what she had vowed would never happen: she was going home! Home to Willow Creek, Minnesota, where nothing exciting ever happened--until Max hit town again, just in time to hear that the bank president had been kidnapped!